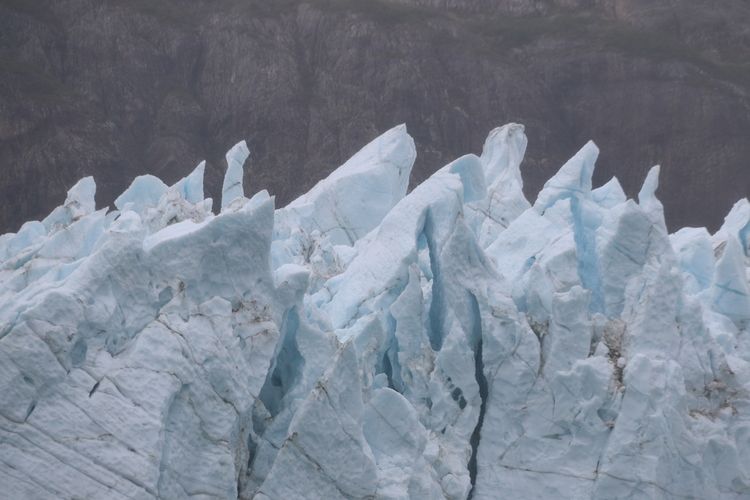 07 Apr

Exploring the Wild Beauty of Alaska – Part II

It was hard to leave Denali National Park behind, but we were excited about the next part of our journey — cruising to Glacier Bay and other Alaska ports.  Having had very little sleep in our first few days of Alaska exploration, we didn't really mind the thought of sitting on a bus for almost ten hours on our trek to Seward.

Since I didn't purchase the full land package to accompany our Alaska cruise, we learned a hard lesson: THERE ARE NO TAXIS in Seward!!  So, we got out of the bus and walked more than a mile in the rain and fog to our hotel. And, yes – we had a lot of luggage we were lugging around with us!  Too bad, there are not photos of this!
Alaska Sea Life Center
We took a quick visit to the Alaska Sea Life Center in the morning and loved seeing puffins! Later we met up with our friends (who just flew in that day) and together embarked on Holland America's Oosterdam,ready to enjoy a leisurely evening of good food, engaging conversation and great sleep!!!
Glacier Bay Highlights
The best way to learn about our 7 day Glacier Discovery Alaska cruise is to just enjoy the photos below, but here are a few details of our cruise highlights:
Sailing into Glacier Bay National Park (certainly one of the spectacular sights I've ever witnessed – 3.3 million acres of mountains, glaciers, and waterways AND part of a larger 25 million acre World Heritage Site).  I hope to come back again soon!
Going on a bear watching tour near Haines, Alaska (and seeing bears up close and personal!!)
Kayaking with my family on Auke Bay in Juneau and watching majestic Bald Eagles soar overhead with Mendenhall Glacier in the background (and not sure about orange pants we had wear!)
Salmon fishing in Ketchikan on a perfectly perfect summer day in Ketchikan (and catching enough to have shipped home!) The daughter/father team who took us out were a hoot too!
Time onboard the cruise ship–relaxing and relishing time with friends and family!
Certainly, a million ways to enjoy your time in Alaska — lots and lots of activities to choose from!!  You will find out that there isn't enough time in a day (or seven days!) to do it all — but you cannot go wrong with whatever you pick.