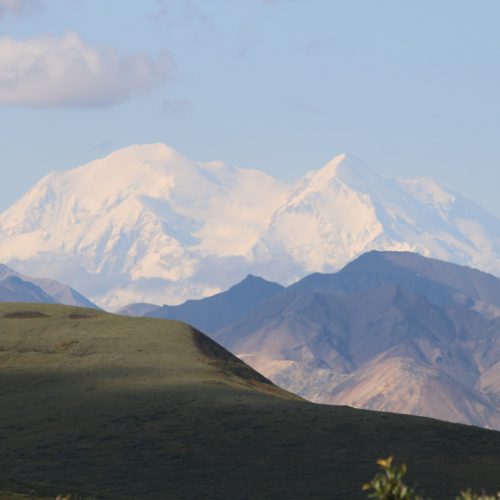 07 Sep

Exploring the Wild Beauty of Alaska – Part 1

Did you know that more than half of parklands in the United States are found in Alaska?  It's not surprising once you realize the state covers almost 600,000 square miles with stark diversity of mountains, glaciers, lakes, rivers, islands, and coastal plains.

This past summer we got a chance to step into this beautiful wilderness–first with a short time in Anchorage, Denali and Seward, and then onto a southbound Voyage of the Glaciers cruise with Holland America's Oosterdam.  It was perfect blend of activity and more relaxing scenic cruising.

It's easy to forget how far west and north Alaska really is; it's flanked by the Arctic and Pacific Oceans and only separated from Russia by the Bering Strait. After 12 hours of travel and a four-hour time difference, we arrived at our hotel in Anchorage (5:30 a.m. East Coast time) and collapsed for a few hours of sleep.

We rose early and arrived at the Anchorage Train Depot for our Princess land package to Denali (much cheaper and more convenient than buying all the components separately!)  Everyone had a great seat for scenic viewing as we headed out for the 10 hour ride to Denali. We loved the train experience with its comfortable seats, lots of leg room, and bar service (if you are so inclined), and a dining car. We were happy we took our waiter's recommendation of the bowl of reindeer chili–it was delicious!
Train Ride to Denali
We arrived at the Denali Princess Wilderness Lodge by about 6:00 p.m.  and quickly got settled,  and grabbed  a snack before heading out to an ATV tour around 8:30 p.m.  I have never gripped handlebars so tightly!  I didn't know it was possible to speed as we flew around the trails of rocks, ravines, hills and puddles!
The next morning we got up at 5:45 a.m. to prepare for the day we had been anticipating for months–Denali National Park and Preserve. We elected to do the park on our own, utilizing the National Park Service buses; however, we learned that it is critical to buy your bus tickets way in advance. We just showed up at 7 a.m. and were told, "sorry, folks, the park's closed." Not really, but every seat to every destination within the park was sold out until 10 a.m.  Very disappointing.
Even though we had originally wanted to go as far as Wonder Lake (mile marker 85) or Kantishna (mile marker 92), we were happy to get on standby for the 9 a.m. bus to Eielson Visitor Center (mile marker 56).  There is no food and limited facilities within the park — everyone is responsible for bringing their own food, water and clothing supplies for the day. We had ample opportunities for bathroom stops and some had water fountains for filling up water bottles. One of the reasons we opted to do the trek on our own was because with the green National Park Service buses, you are allowed to get on and off. You can actually get out and hike wherever you wish and simply wait (and it could be a while) to catch another one.
We were so fortunate to have had the most incredible weather on our day in the park–bright blue skies, warm sunshine and a clear view of Denali (which means "the High One" for Athabascan Indians). It literally took my breath away.