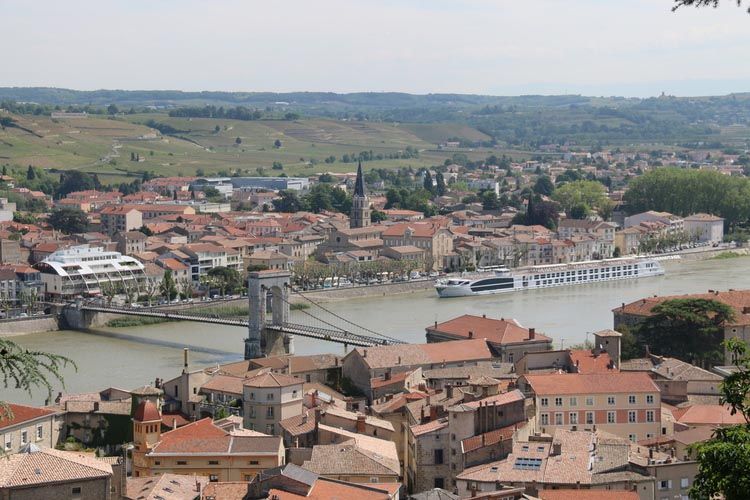 22 Jul

Sailing the Rhone River with Uniworld–quaint villages, vineyards and historical milestones

If you are looking for one of the most idyllic areas to go on a river cruise, the Rhone River in France has something for everyone: compelling art, history, beautiful countryside, wines and chocolate and picture-perfect villages to enjoy!

We began our journey in Paris, one of my all-time favorite cities.  Staying two nights at the historic Hotel du Louvre, we were able to tour the city from a fantastic location!  Hotel du Louvre, one of my Signature hotels, did not disappoint!  Each of us were treated to hotel food and beverage credits, early check in and late check out, and gifts to our rooms! Service was personable, warm and inviting! I learned that there will be a room renovation project later in 2016, which will make this special property even better. I was fortunate enough to have a corner junior suite with a view directly into the Louvre Museum.

From Paris we took a 2 hour train ride to Lyon, France — who doesn't love train travel?  Except for dealing with the bags!
Uniworld's Burgundy and Provence 7 night sailing – goes back and forth between Lyon and Avignon, along the Rhone River. We boarded, the S.S. Catherine, a six-star luxury river cruise ship, in Lyon.
The weather was unseasonably cool and misty for the month of May in Paris, but fortunately, it got warmer and warmer as we sailed south.  We never had any rainy days and wearing a light jacket or sweater was all that was needed. Touring in Europe on a river cruise ship makes everything just easier.  You can decide the morning of about a particular tour in some cases — but all your belongings stay in drawers and closets as the ship takes you to different cities.  We primarily sailed during the evenings so had long days for our treks into the towns and villages along the way.
Below is a synopsis of each port with its highlights:
Macon, France
We visited Hospices de Beaune, where monks have been making and selling wine to support their charitable work (taking care of the poor who were sick) since the 15th century. The multi-colored tile roof is quite remarkable.   www.beaune-tourism.com/discover/hospices-de-beaune
In the afternoon, we did an optional tour to a vineyard estate that had been in the same family for 8 centuries!  The count showed us his home and gave us a private wine-tasting in the wine cellar and then a delicious homemade lunch of Burgundy stew and scalloped potatoes that was served in the carriage house!
Lyon, France
Truly a wonderful city.  We did an active tour with bicycling around in the morning with a local guide and then came back to the ship, had a quick lunch — and then grabbed some of Uniworld's bikes and did another biking excursion with the fitness manager for a little while before exploring on our own.  We also got to see the zoo and take an afternoon break for coffee and crepes!
Tournon, France
One of the famous wine districts so we opted for a hike up to a vineyard — and with breathtaking views overlooking the valley and city, we enjoyed some Cotes du Rhone wines!
Viviers, France
Founded in the fifth century, this medieval village has such charm with its narrow streets and historic houses. We climbed the Rue du Chateau to take in the view from the 12th century St. Vincent Cathedral.  And of course, we got to hear a private music concert inside!
In the afternoon, we drove fields of lavender and got to visit a truffle farm — the farmer and his precious dog Emmy taught us a lot about this unique food item and the lengths they have to go through to grow them and then dig them up!
Arles, France
We did a walking tour past many sites associates with Vincent Van Gogh, as well as several ancient Roman monuments.  In the morning, we visited Punt du Gard, a UNESCO-designated site that was built more than 2,000 years ago by the Romans.  Seeing this in person was a trip highlight for me!
Avignon, France
The primary attraction we visited here was the magnificent Palace of the Popes, another UNESCO World Heritage Site.  I had received some insider information on the best chocolate shop in town–and WOW, it really was some of the best chocolate I have ever tasted!  We bought a lot to bring home to share with friends and family!  Aline Gehant – www.aline-gehant-chocolatier.com/
Uniworld's S.S. Catherine
This is definitely a 6-star luxury cruise ship — with amazing, personal service from highly trained and attentive staff.  Food is fresh cuisine daily served with high-quality regional wines. Again, I cannot recommend Uniworld enough for their attention to detail both in accommodations, food, and touring options.  Come join Unforgettable Trips on a future group journey!!  www.uniworld.com/en/river-cruise/europe/france/burgundy-and-provence/2016-avignon-to-lyon/